Our locksmith is at your service 24/7. When you are suddenly faced with unexpected problems related to your keys and locks, let our team know. One of our mobile experts will assist you as soon as possible. With a large team of experienced mobile professionals, state of the art equipment in every truck and the capacity to work night and day for your own convenience, our company can be really useful when doors are locked and keys are broken. Rest assured that our technicians are all knowledgeable of foreign & domestic vehicles and their security systems, have the expertise to replace and program car keys, unlock every door and trunk, and cut new keys in just seconds. When you are in trouble, rely on us and our ability to offer 24/7 emergency services.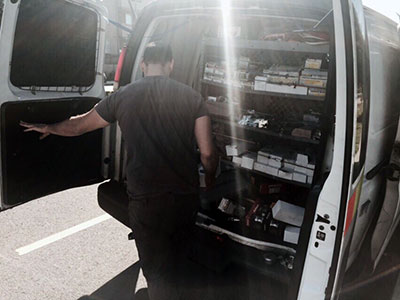 Locked out? We offer 24/7 emergency services
If you are locked out, give us a call! The team at our expert company is mobile and one of our technicians will soon be of assistance. What's essential is that we can help you any time and within a very short time. Let us know of your location and problem so that our team can take care of it. As specialists in commercial, auto and home locking systems, our technicians guarantee excellent lock repair services!
Let us take care of any key issues! If they are lost or broken, they are immediately replaced or extracted. If you have trouble with your chip car keys, rest assured that our professionals have the knowhow and equipment to repair, program and replace them. With our equipment, experience and expertise in the replacement of keys, our experts guarantee professional programming of chip keys and proper key cutting service. You will have our immediate assistance when the office keys are broken, the patio locks are damaged, your child is locked inside the bedroom, the deadbolt is stuck and you can't secure your house.
From emergency transponder key programming and house lock problems to office security trouble and lockouts, our company can help you. We unlock trunks, safes, doors and replace all types of keys, repair deadbolts and help you out after burglaries, change locks and urgently rekey them, and make sure the problem is fixed and you feel secure again. What's vital is that our team can help you soon and at all times whether the steering wheel is locked or home locks are stuck. Trust our discretion and skills and rely on us to help you as soon as possible. Need our 24/7 emergency services? All you need to do is give us a call and we'll be right on our way!